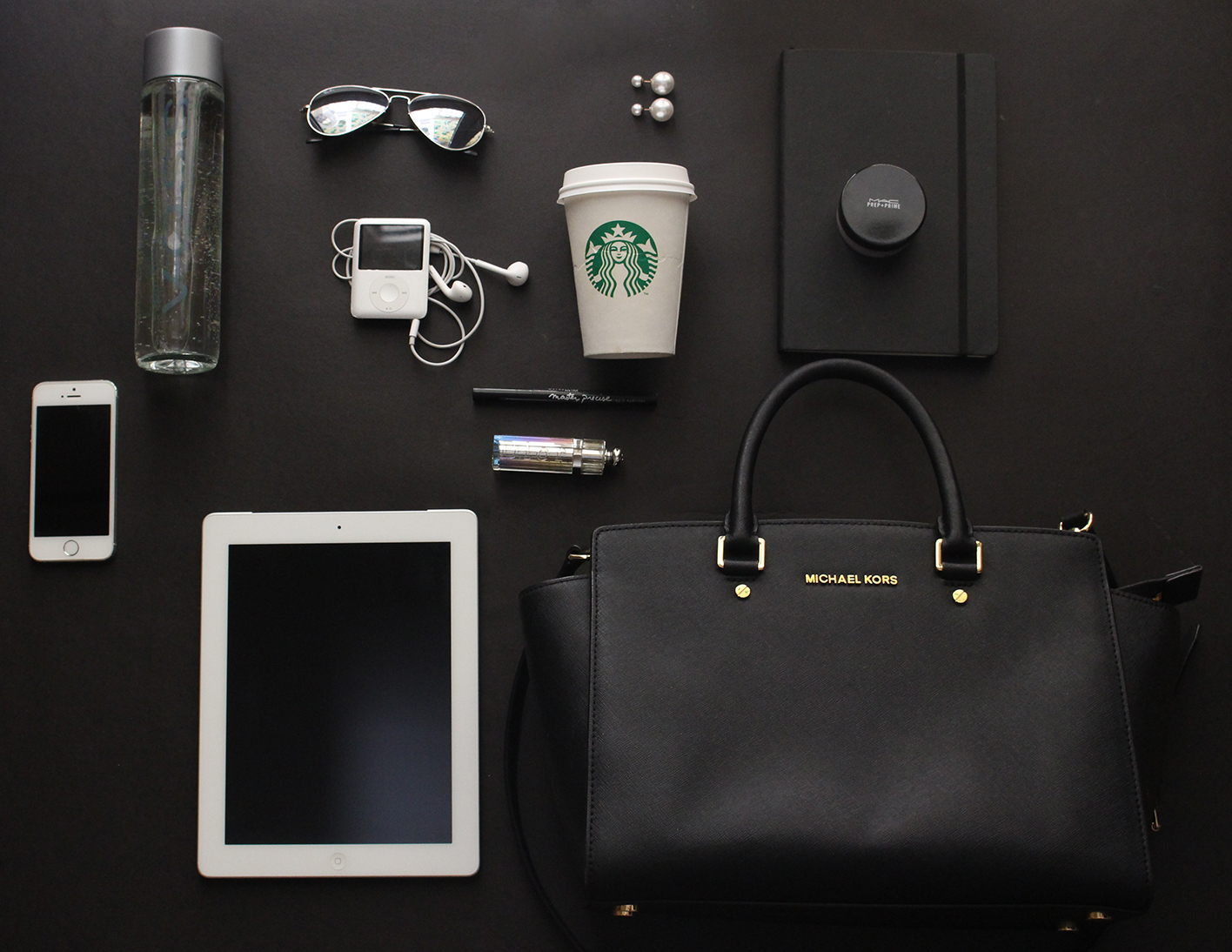 Our first feature in the BlogKit is Rachel from Chic Glam Style. Her blog (chicglamstyle.com) is a perfect reflection of her minimalistic style that is portrayed through contemporary visuals, basically the stunning photography! Rachel describes her blog as her fashion diary- an ode to everything fabulous, stylishly elegant and stunningly artistic!
Rachel:
We all have items that we value and probably carry in our wallets, briefcases, purses and handbags. Below are my essentials:
My notebook is essential to me as I plan and write in it everything that I need to do on a daily basis.
I have oily skin so I must always carry around my MAC Prep and Prime Face Powder with me to blot the excess oil from my face and to balance the look on my oily skin.
I am obsessed with Dior Addict Lipsticks!They are so moisturizing to my lips and have a very luxurious packaging.I apply my Dior Addict lipstick on my lips to give them a sexy and bolder look, boosting my appearance and confidence.
My liquid eyeliner, which I use to form my winged liner signature look, accentuates my eyes with an alert and youthful look.
Sunglasses are always in my bag whether it's winter or summer.My Rayban Aviators which are actually the first pair of sunglasses I ever bought with my own money,protect my eyes from direct sunlight and dust.
I wear my Pearl earrings to complement my dressing.These are from my own jewelry collection so they have a special sentiment value to me and they give me a classic and unique look.
Without caffeine I don't exist!!I must have coffee or tea in the morning in order for me to function properly.I enjoy Starbucks Coffee and mostly go for their Cappuccino to boost my energy levels.
My iPod, which I have since 2011, stays with me. Music is essential to me as it relaxes my mind and helps me get things done.
My iPhone obviously stays close to me for easy communication with my friends, relatives and business associates. I use it to receive and make calls,texting,facebooking,instagramming…
I use my iPad to read and write emails and documents, for social media and internet and to stay in touch with the world.It's more convenient than my phone when it comes to doing work related stuff.
I carry and sip my Voss water any time I feel thirsty. It is essential for keeping my body hydrated and my skin looking fresh.
Last but not least my Kors Selma Bag is spacious, with several compartments in which I arrange and securely carry my essentials. With my designer bag and all my essentials securely packed in it, I walk with confidence feeling smart and well dressed.