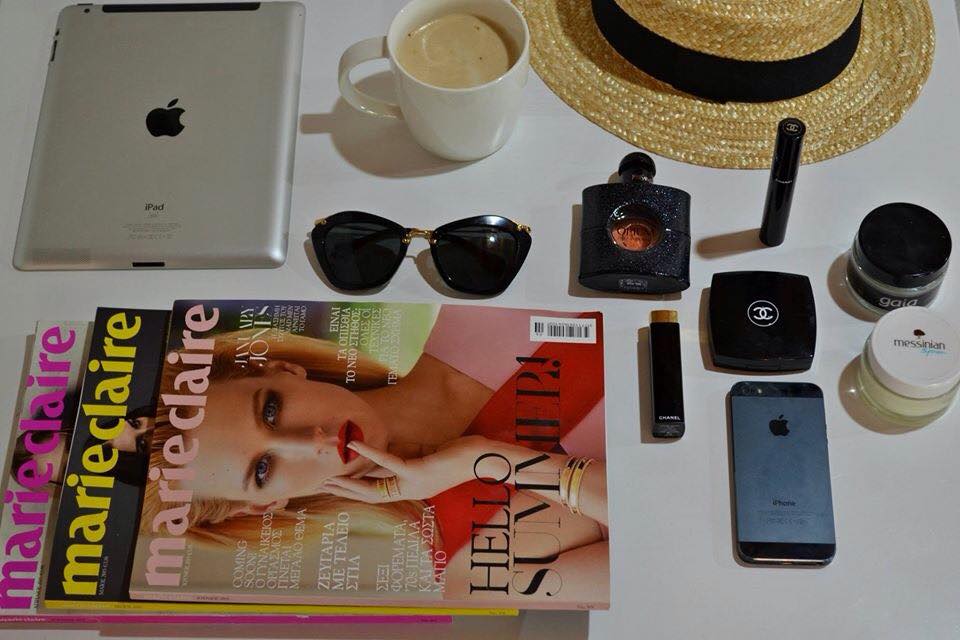 In today's post we have the pleasure of featuring greek fashion blogger Eleni. Her blog Fashionell is all about showing styling tips, everyday outfits, special beauty secrets & happenings.Here are Eleni's daily essentials:
"iPad: I use my iPad all the time to check my emails, find interesting blogs & other web pages, get inspired by new ideas and of course learn new things, information about fashion.
iPhone: I don't know if it's my best choice..but I am a girl who can't live without her cellphone. I use it to take photos, chat with my friends & check all my fashionell profiles.
Coffee: without coffee I don't exist! It's the first thing I want to drink every morning. I use to drink coffee with no sugar and a lot of light milk.
Cosmetics: about cosmetics I have to say 4 things: moisturizer , lipstick, mascara & rouse. The four things that I always have in my bag! I am a fun of natural makeup, so those are the products that I use more. I also use a lot my favorite moisturizing cream, as it makes my skin feel fresh and clean all the time.
Perfume: my favorite perfume for this year is the Saint Lauren Opium. I wear it especially during the night.
Hat: Summer is here, so I don't forget my hat. Obviously, I am a hat lover! And this babe is my favorite one! (By GIORGIO HATTER)
Sunglasses: the most essential thing! I have many sunglasses, but for the last two years those MiuMiu are still my favorite. Love them!
Magazines: maybe in two or three years I will have to buy an extra room for my magazines! Magazines (and blogs) are the only thing that I like to study. I get inspired & informed by them."