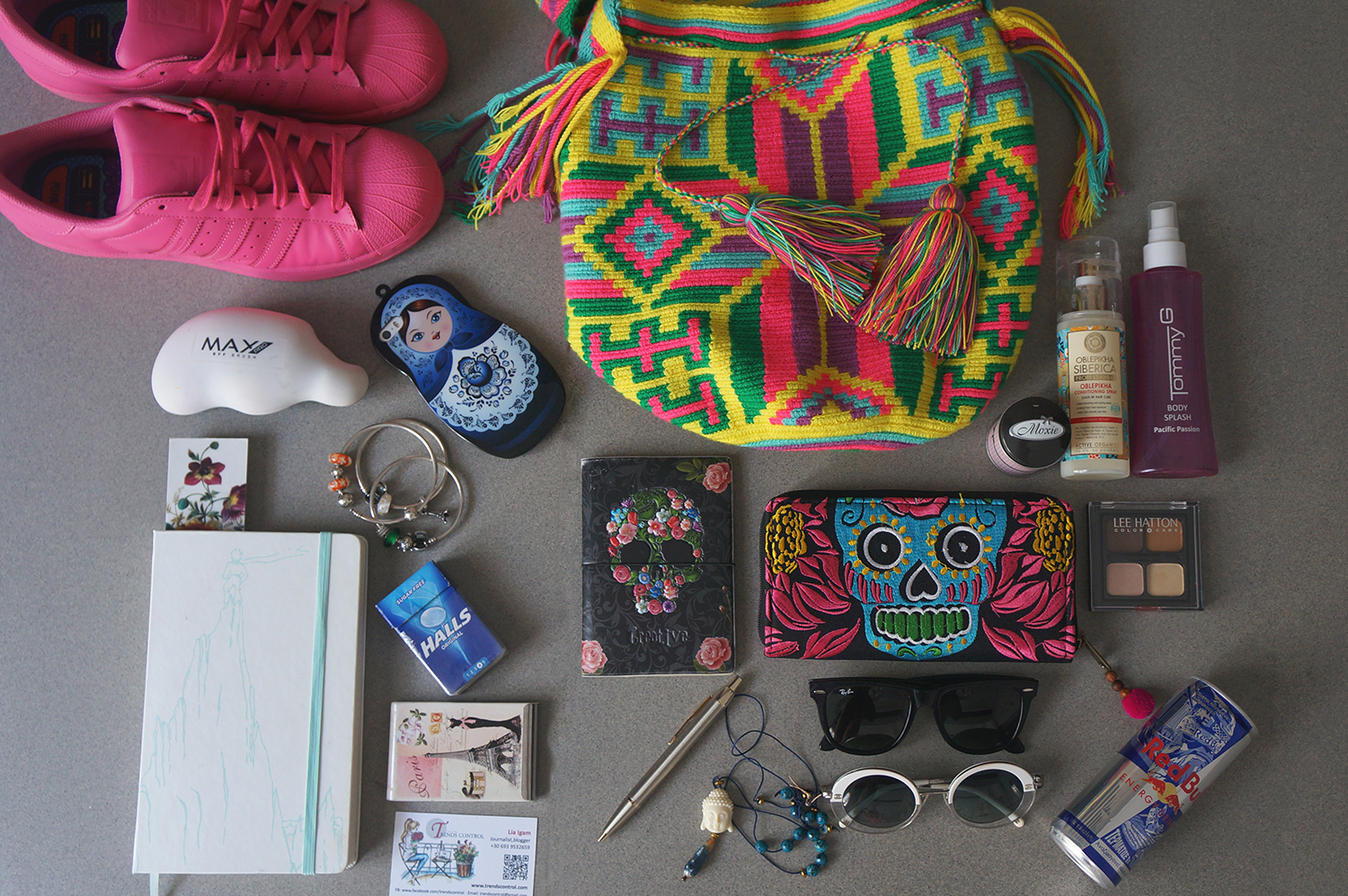 Featuring Kazakh blogger Lia from Lia's Trends Control this post is far from ordinary! If you are in need of colourful changes in your life, this blog is going to help you, giving correct directions.
These are Lia's essentials:
"Summer is already here and my day is full of bright colors!
My new Wayuu Mochilla and top trendy pair of sneakers in pink, Pharell Williams for Adidas goes cool mostly with all casual outfits.
Scull attack: purse by Upcycled Styles & passport cover (in case I would like to leave a town for a while).
If you've ever wonders what summer smells like, Pacific Passion, a new Body Splash by Tommy G is the answer! I love body spray instead of fragrances for the hot Athens days, for the lighter smell and refreshing structure.
Moxie tampons (by beautytestbox.com) is the best company for the "hard days", packed in mini metallic vintage case!
Hair styling tools: Russian brand Natura Siberica (by beautytestbox.com) with sea buckthorn and Max Pro compact brush are the only ones to cope with my extra long hair!
One more Russian detail in my daily basis:  iPhone case, friend's present from Moscow, to bring my inner culture outside.
As told by Haruki Murakami: ""No matter how much suffering you went through, you never wanted to let go of those memories."  I really love to keep in memory everything I have passed through the days, that's why I'm a fan of Moleskine notebooks (for many years!). One more trendy way to keep your memories: Pandora bracelets! Romantic trip to Paris, summer in Italy, Mykonos escape all these are captured in this tine charms on my hand.
Parisian card holder is one more detail from my bellowed France!
Lee Hatton pallet is my beauty secret: I use these colors as eye shadows, rouge and even… lip color daily!
Oversized pendants are my passion, that is why Jouly Blink collections (new Greek designer) are my best!
Motion is the secret to success, but sometimes I need to load my energy with external resaurses, as red Bull or a cup of coffee!
My days are crazy, full of fashion, meetings, interviews and work. But I love each moment of this crazy life, especially when all that important stuff could be with me!
Best wishes, Lia Igam."